Prospecting Overview
Note: Prospecting is an upgraded paid feature. (opens in a new tab)
Grantseeker Prospecting provides you all the functionality of Basic and Premium plans (opens in a new tab), plus it lets you get one step closer to getting the grant(s) you need, by allowing you to search our foundation database to find prospective Funders by focus area and location. 
The data for the Grantseeker foundation database comes from publicly available 990 and IRS forms. As a result, you will only see U.S. foundations appear in the results. However, many of these funders also grant to internationally based organizations. Our prospecting features leverage this data in a user-friendly interface that helps you find the most relevant prospective funders quickly and easily.
Grantseeker is not a funder, does not provide funding to organizations or causes, and does not list available grants from funders.
---
Find Prospects Search
Prospect Search uses two different components to narrow the list to funders that are most relevant to you.
1. Focus Areas. To add a Focus Area, you can start typing to search the category list, or use your mouse to open the categories. You can also type in custom keywords if you don't see what you're looking for in the list - just start typing, and either click the Add button, or hit Enter on your keyboard to add the keyword to your search criteria.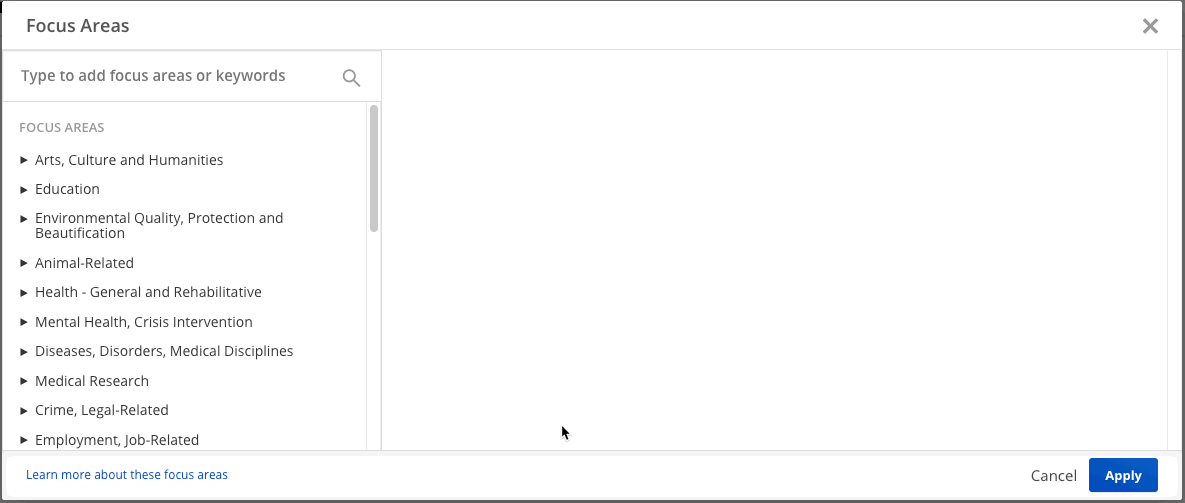 2. Locations. You can limit the results to foundations that have granted to organizations in specific states or counties, by filtering on Locations. Search for a specific state county by typing in the search box, or just select the names directly using the checkboxes. 
---
International Search Workaround:
While the "Locations" filter does not include international regions, several users have found that entering an international location in as a keyword will produce similar results. For example, to find funders that have given to projects based in Guatemala, you could search "Guatemala" as a keyword (here's a quick demo video (opens in a new tab)), which will return funders that have awarded grants with "Guatemala" in the purpose, or funders with "Guatemala" in their mission. When viewing the funder's contributions tab, you'll be able to see the name and location of organizations they awarded, in addition to the grant details. You can also use multi-word keywords, such as "Guatemala education", which will return funders that awarded grants that include both those words in the grant details. 
---
Specific Funder Search
If you already know which funder's information you'd like to look up, click "search for a specific funder by name or EIN", or click here (opens in a new tab). From here, simply type the name or EIN of the funder you're looking for. To return to the search by focus area and location, click "explore funders by focus area and location", or click here (opens in a new tab).
---
 Search Results
Your search results are automatically ordered by which funder has awarded the most grants matching your focus areas, keywords, and locations (see Grant Count in the far right column). From this view, you can see at a glance data about the top funded categories and locations for each funder, as well as the median grant value for all awarded grants matching your search criteria. 
Clicking on a Prospect will open the Prospect Profile, which contains detailed information about a foundation's giving history. From the list of search results, you can also bookmark a prospect by clicking the bookmark icon.
---
"Hide from search"
You also have the option to hide a prospect from future search results. To hide a prospect, click on that particular funder, then click in the top right "Hide from search". All hidden prospects will appear in your Settings page, under Prospecting (opens in a new tab). You can restore a hidden prospect at any time.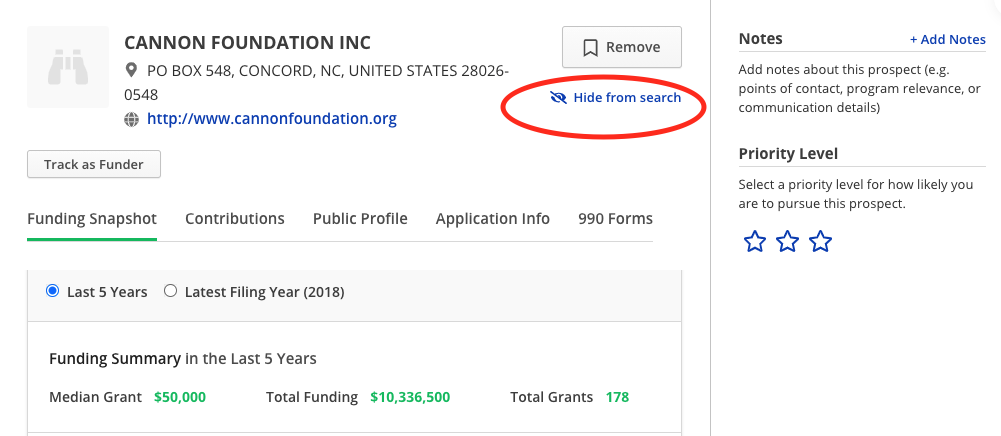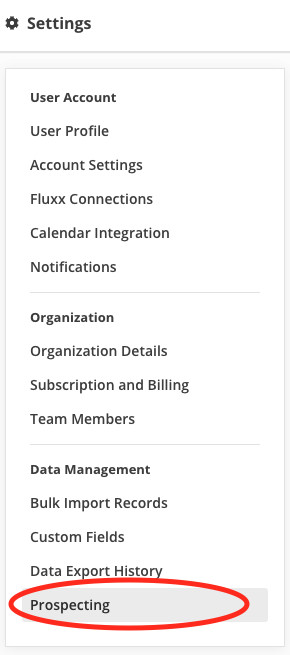 Both Recent Searches and Bookmarks can be viewed by all users of your account.
---
Prospect Profile
Note: As we rely on data released directly from organizations and their IRS documents, you may find that some prospect profiles are incomplete for the time being. This data will update with every filing year.
This detailed view provides data on the past contribution history as well as organization details such as key personnel at the organization and historical 990 forms. 
The Contributions tab can be toggled to show either the past 5 years' aggregate data, or only include the data from the most recent filing year. The granting summary provides a quick overview of the prospect's granting history, and the top-funded categories show a breakdown of the type of organizations receiving funding. The map shows the amount of funding given to each state by shading, where darker shading indicates more funding. Hovering over a state will show its total funding, median grant, and grant count. The contributions table is automatically filtered to show grants that match your focus areas, keywords, or location, but it can be toggled to show all past contributions that have been awarded regardless of criteria. 
The Organization Details tab includes information to learn more about a prospect's established programs and mission, as well as key personnel and their position at the foundation. 
The 990 Forms tab includes 990 PDFs for the most recent filing years, dating back 5 years. These can be opened in a new tab or downloaded.
---
Bookmarks
You can bookmark a prospect both from the results list (by clicking the bookmark icon at the right of the page) or from the Prospect Profile. Once a prospect is bookmarked, it will automatically appear in your Bookmarks tab (opens in a new tab), which will be viewable by other users in your account. You can add notes and priority ranking to all bookmarked prospects, and you can organize by priority in the bookmarks tab.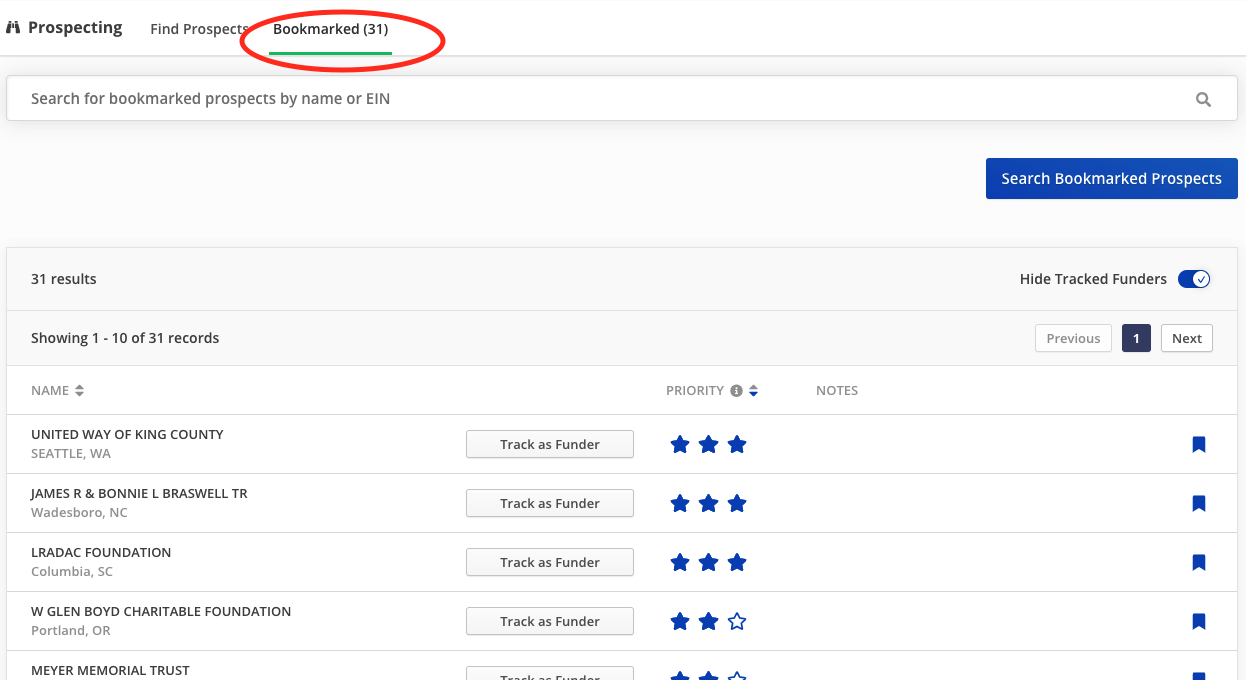 Notes and Priority can be edited or updated at any time, by anyone in your organization, by just clicking on the funder that is bookmarked. If you remove a bookmark and add it back later, your notes and priority will still be there.